Work History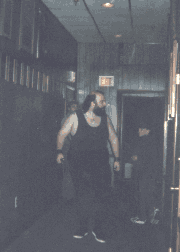 Trained by Rocky Jones and Gino Caruso. some of the federations Kodiak Bear has worked for are as follows: CFW, CWF, ECW, ECPW, ECWA, HIWF, ICW, IWCCW, IWF, NWA, PCW, WWF, WCW, plus many other independent wresting federations through out the us and Canada.
States and countries the Kodiak Bear has worked in are as follows: CA, CT, DE, FL, HI, NJ, NY, MA, ME, MN, OH, PA, RI, VT, VA, Africa, Bahamas, Dominican Republic, England, Puerto Rico , Saint Thomas, Saint Vincents, Saint Domingo, and the Virgin Islands
Some of the professional wrestling superstars the Kodiak Bear has worked against consist of: Tony Atlas, Tito Santana, Bam Bam Bigelow, King Kong Bundy, Terry Funk, Hillbilly Cousin Luke, Jake Roberts, Don Muraco, plus some independent stars such as: Kid USA, Strangler Nick Maddox, Devon Storm (now Crowbar of WCW), Little Guido, Tommy Dreamer and Taz.
THE KODIAK BEAR CURRENTLY CO-HOST OF THE NATIONALLY SYNDICATED ROCK &
WRESTLING RADIO PROGRAM "PILE-DRIVER".
Stats
Height: 6 feet 2 inches
Weight: 351 lbs
Motto: Win if you can, lose if you must, but always maim your opponent.
est: 1992